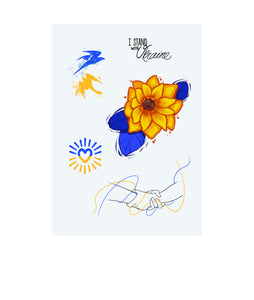 Regular price
Support Ukraine Set
---
I am outraged and deeply saddened by the atrocities being committed against the people of Ukraine. I'd like to demonstrate my support with the Support Ukraine Set, and hope that others will feel inspired to show their support as well. All profits from this set will go to the Ukraine Humanitarian Fund through UN Crisis Relief. 
This set includes a heart, two birds, a sunflower, two hands clasped together, and "I stand with Ukraine", all in yellow and blue to represent the Ukrainian flag. 
Lasts 1-5 Days
Feels like Skin
Skin Safe
Cut out your tattoo

Peel the plastic off

Place your tattoo face down on clean skin

Dab the back with a wet paper towel

Peel the paper away

It's that easy!
Placement
Applying your design to joints or places that bend will cause your tattoo to wear off faster. Stick to flatter areas of skin, and your tattoo will last longer!
The Key
The key to the perfect application is a wet paper towel! The trick is to run your paper towel under your faucet, squeeze out the excess water, then make sure it's still nice and damp before you use it!
Go Slow
Take your time with the placement and the application of your design. There's no rush!